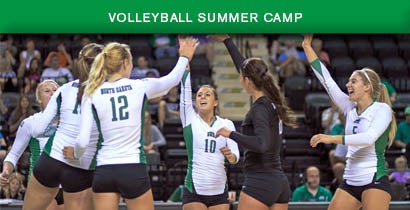 Summer 2019 UND Volleyball Team Camp
Commuter: $115
Free parking will be available in the north lot of the Betty Engelstad Sioux Center.
Contact Volleyball Director of Operations Ashley Laidley at [email protected] or 701-777-2234
UND Volleyball will host a Team camp on July 19th-21st. Prices are as follows:
Commuter (w/o meals) $115/player
Each team will be assigned a camp coach. The coach will work with the team throughout the entirety of camp. The teams will focus on team defense, blocking, passing, and offense. The last two sessions of camp will consist of a tournament. Please coordinate your team's attendance with your high school coach. Coaches are not required to attend but their assistance in the registration process is essential. Includes bag.