Winter 2021 UND Athletics Season Guidelines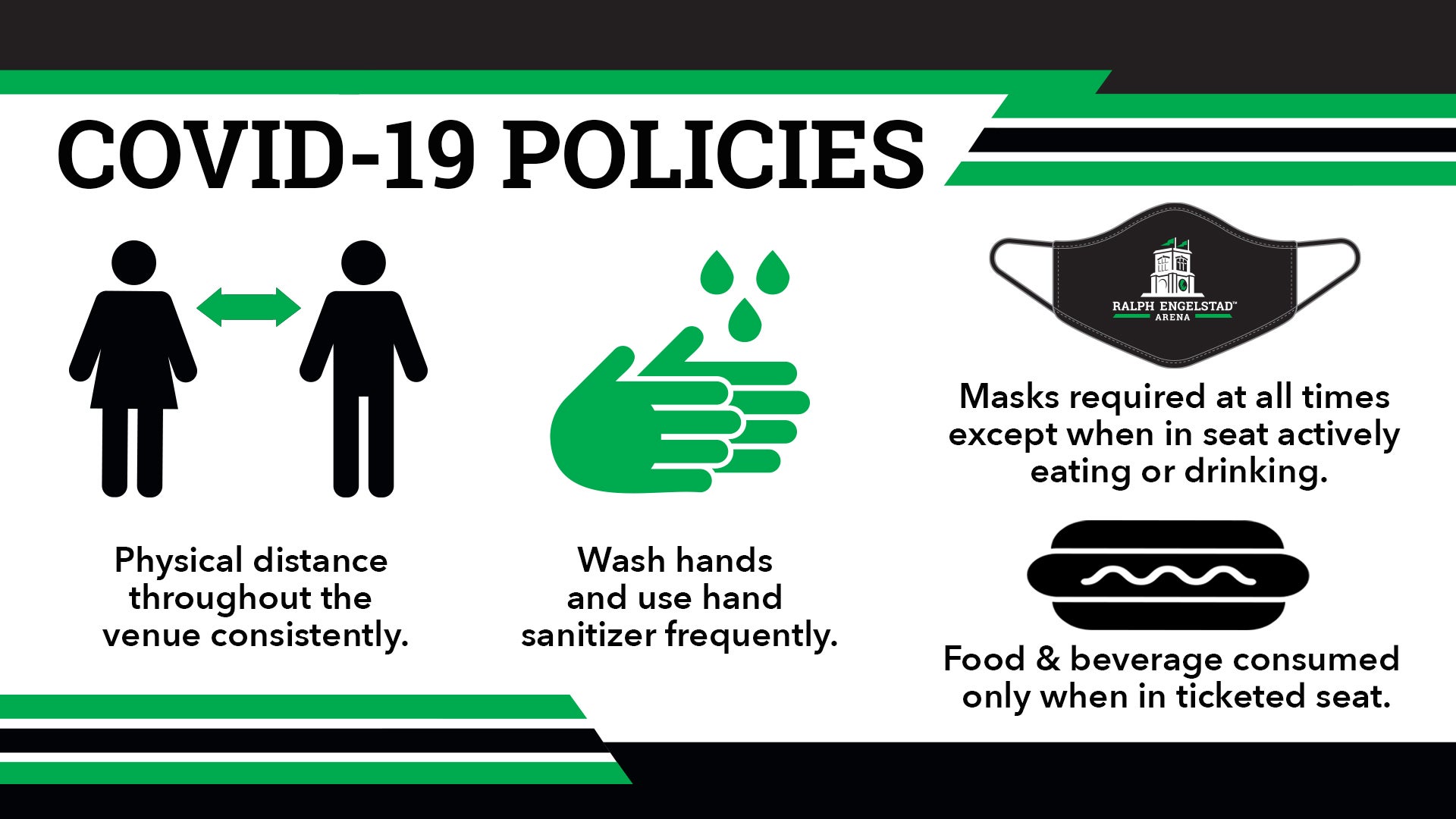 Ralph Engelstad Arena and Betty Engelstad Sioux Center are excited to welcome a limited number of fans for the winter 2021 UND Athletics season! For the health and safety of student-athletes, fans and staff, new health and safety guidelines and protocols have been implemented. These guidelines may be adjusted through the season and need to be conscientiously followed to maintain and possibly grow fan attendance as the season progresses.
Visit our NEWSROOM and REA social media for schedule and ticket updates.
Full 2021 REA COVID-19 Policies & Amenities Upgrade Release: Winter 2021 REA COVID Guidelines and Fan Experience Upgrades News Release 1 20 21.pdf
Attendance: Per state guidelines, our current maximum attendance is approximately 3,000 for REA and 650 for BESC.

Masks: Fans are required to wear a mask or face covering inside REA/BESC venues at all times except when actively eating or drinking in their physically distanced seat.

Fans are required to conscientiously practice physical distancing, encouraged to frequently wash their hands, and asked to use the hand sanitizers provided within the venue.

No congregating allowed in the lobby, concourses or common areas. Fans are asked to purchase food and beverages and then head immediately to their seat.

Fans who are not feeling well or fans that have been in close contact with someone they suspect may be infected with COVID-19 should stay home and must not attempt to enter the venue.

REA ENTRY - Main, Northwest and Southwest doors will be used for the 2021 hockey season. Gates open 1 hour prior to game time.

BESC ENTRY - Lobby doors in the Betty will remain locked until 1 hour prior to tip-off of the first game daily.

Olympic entrance and NE BESC ticket window will be closed for 2020-21 season. Entrance and tickets available in BESC main lobby only.
Tickets - Hockey: Limited quantities of single-game tickets are currently available. Visit our NEWSROOM for further information.

Tickets - Basketball: No single game tickets are currently available for upcoming basketball games. Upcoming games are sold-out based on the restricted capacity of 650. Season ticket holders have purchased all available ticket inventory in advance of the games.

Seating: Those attending games will utilize a physically distanced seating plan with reserved tickets.

REA Student seating: Reserved seating in sections 108 - 109, and 309 - 310A.

BESC Student Seating: General admission seating for UND students in the North bleachers only.

Dedicated cleaning staff will be responsible for sanitizing high touch areas during events.

Venue staff will wear masks and applicable PPE and will also undergo a health screening at the employee point of entry.

Food and drink is available for purchase at concessions, but may only be consumed in physically distanced seating locations.

We are aware of one private shuttle bus running from the "Bun Lounge" for this hockey season. Uber/Lyft is available.

Parking: All on-site parking lots, except for designated spots in the Kelly/NE Lot, will be available for anyone attending games at current attendance levels.

Only members will be allowed in REA North & South Club Lounges this season.

Bags are allowed, but we highly encourage everyone to leave all bags and purses at home or in your vehicle to reduce interaction time with venue personnel at the point of entry.
These rules MUST be adhered to if we're going to be allowed to continue to bring fans back into the building. We know some of these policies are inconvenient, but they are also absolutely necessary for us to comply with the requirements that govern gatherings at large venues in our state during the pandemic.
REA New Hard Liquor Policy – For those aged 21 and over, hard liquor and cocktails will be available for purchase at the Hugo's Lounge and the new Captain Morgan Lounge this season. Reminder, drinks may only be consumed in your physically distanced seat location.
New Student Section Alcohol Policy - Alcohol will be allowed in student section for those aged 21 and over.
New Hockey Saturday Game Time – Most Saturday night games will begin at 6:07pm (except 2/6 vs DU) this season. Gates for hockey games will open at 5:00 pm this season.
New Basketball Doubleheaders – For this season, women's and men's home regular season basketball games will all be same day doubleheaders with UND playing the same team twice over the weekend. The women will play the first game and the men will play the second game. The venue will not be cleared between games and one ticket provides access to the same seat for both games.
Concessions – Will be open, but with modifications.
All employees will wear masks and will routinely wash hands and sanitize surfaces.

Condiments or utensils will be handed out.

No refills on soda or popcorn

REA - Slap Shot/Midway, Imperial, Dogs and Que, Dippin' Dots, Hugo's Market Express, Far Out Nuts in lower level and All American in upper level.

REA beer - 8 lower level beer stands will be open throughout the concourse.

Club Lounges will be open for fans to purchase there and then take to their seats. Club Lounges will be open in the upper level for fans to purchase there and then take to their seats.
BESC - Concessions open on the North end of the court only.
Student Concessions Discount – UND students will be allowed to purchase a discounted menu of select concession items this season at the BESC Fast Break Grab and Go (basketball) and REA Slap Shot concession stands (hockey). UND students will simply show their valid UND student ID card to receive the discount.
REA Winter 2021 Concourse Map: Winter 2021 Concourse Map.pdf
2021 COVID-19 Readiness Plan: 2020-21 REA COVID Readiness Plan.pdf
Winter 2021 BESC Basketball Release: Winter 2021 BESC BASKETBALL COVID Guidelines and Fan Experience Upgrades News Release 12 29 20.pdf
UND Women's Basketball Schedule