U.S. Hockey Hall of Fame Game
October 27, 2018- Las Vegas, Nevada
One of College Hockey's best rivalries is renewed in the desert when the University of North Dakota and the University of Minnesota battle in a non-conference matchup at the Orleans Arena.
The 2018 U.S. Hockey Hall of Fame Game is not an exhibition game; it is a very important regular season game that will absolutely count in the national rankings. The outcome of this game may have a significant impact on the post-season aspirations for each school. The 2018 U.S. Hockey Hall of Fame Game will certainly be one of the biggest college hockey games of the season!
UPDATE:
Team practices will be open to the public on Friday, October 26. Entrer through gate "A" at the Orleans Arena.
-North Dakota 11:00AM- 12:30 PM
-Minnestoa 12:45PM- 2:15 PM
Practice times are subject to change.
Schedule of Public Events
Click buttons below for detailed information about each event.
Welcome Party | Friday, October 26 | 3:00 PM to 8:00 PM | Orleans Arena Tailgate Area
Pregame Party | Saturday, October 27 | 2:00 PM to 10:00 PM | Orleans Arena Tailgate Area
U.S. Hockey Hall of Fame Game | Saturday, October 27 | 7:07 PM | Orleans Arena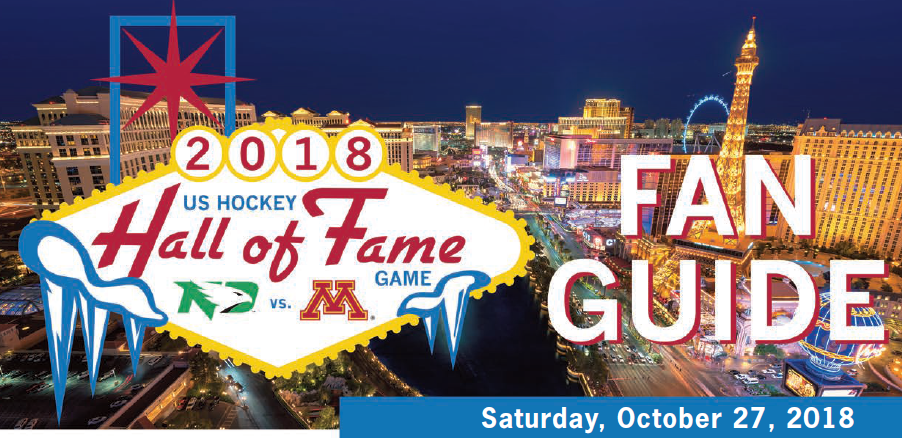 Questions? If you have any questions about the 2018 U.S. Hockey Hall of Fame Game, please send an email to [email protected]