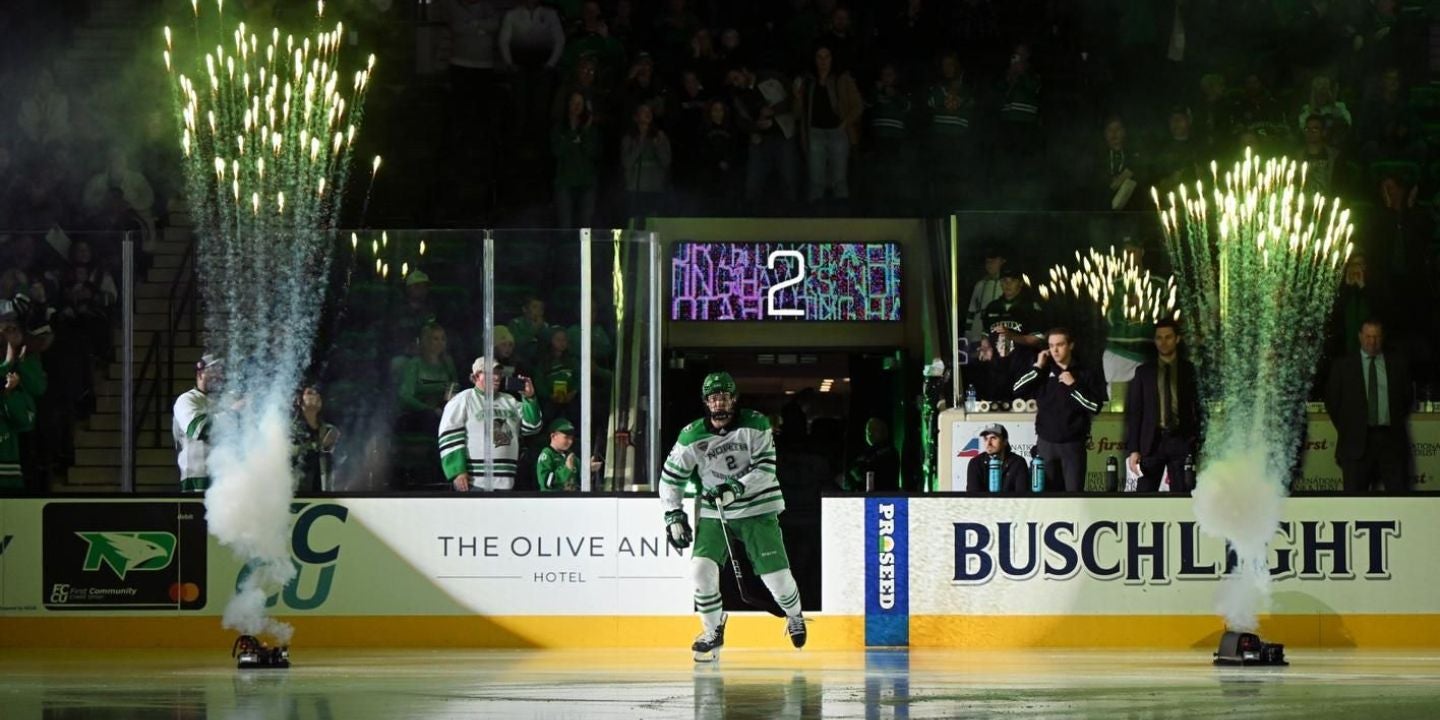 2023-24 UND Hockey Promotional Schedule
Oct.

10

, 2023
2023-24 UND Hockey Promotional Schedule
For only the second time in program history, North Dakota will serve as one of the hosts for the annual Ice Breaker Tournament on Oct. 13-14 and will honor our military and local heroes in our Salute to Service Weekend, presented by SCHEELS. The Fighting Hawks will wear special warmup jerseys for their contest with Army on Friday and again before a meeting with longtime rival Wisconsin on Saturday. These special warmup jerseys will be available for sale via an online auction beginning Friday evening.
That same weekend, UND is proud to welcome back alumni from the North Dakota women's hockey program for a special reunion on Friday against Army. The reunion coincides with the inductions of Monique Lamoureux-Morando and Jocelyne Lamoureux-Davidson into the UND Letterwinners Athletics Hall of Fame on Thursday, Oct. 12 as well as the presentation of All-American rings to Jocelyne, Monique and goaltender Shelby Amsley-Benzie.
One of the best rivalries in collegiate sports takes center stage at the Ralph on Oct. 20-21, as North Dakota and Minnesota are set to battle. Fans are invited to join NoDak in wearing green on Friday night for a "Green Out" before former Hobey Baker winner and UND legend Tony Hrkac returns for "One More Shift" on Saturday night for a special rivalry weekend presented by Altru.
UND rounds out the month of October with another meeting against a former conference foe, Minnesota State, on Oct. 27-28 and sponsored by Rydell. The series opener will feature The Santa Claus Girls toy and clothes drive, as fans are encouraged to donate a new toy, beanie, knit hat or mittens and receive a discounted ticket voucher for the Nov. 24-25 series against Bemidji State and will close out the weekend by recognizing longtime off-ice official John Smith during a pregame ceremony on Saturday.
The first conference series of the year at home sees Miami come to town on Nov. 17-18 for the annual Hockey Fights Cancer Weekend. Join the entire hockey community by supporting cancer patients and their families through their courageous battles, as we work to raise money through the American Cancer Society to support our local community.
NoDak closes out the first half of the season against Colorado College on Dec. 8-9, opening the weekend with Journey Home Animal Rescue and Circle of Friends, local animal organizations advocating for foster-based rescue and support in our area, and the night will see special visits from local furry friends looking to find new forever homes. Saturday's finale against the Tigers will feature the annual Teddy Bear Toss, with all going to support local organizations. Fans are encouraged to try and beat last season's number of 496 teddy bears to warm our local community during the holiday season! UND will also recognize former head coach Gino Gasparini with a special pregame ceremony.
Close out 2023 at the Ralph on Dec. 30 for an exhibition contest against the U.S. Under-18 Team as we honor our local youth hockey teams and the annual Kids Carnival Night, featuring games on the concourse during pregame and first intermission with fun giveaways.
As the coldest month of the year begins, UND welcomes in Alaska on Jan. 5-6 for a fun weekend presented by Hugo's. On Friday, UND will celebrate its partnership with Special Olympics North Dakota while the annual Scout Night with the Boy Scouts of America closes out the weekend on Saturday.
Omaha returns to Grand Forks the following weekend and fans are encouraged to give them a cold welcome by wearing white on Friday night for a "White Out" before the kids of Wilder Elementary take center stage for the third-annual Kids Takeover Night on Saturday.
The penultimate weekend of the home slate against Minnesota Duluth welcomes back the Old West on Friday for Medora Night featuring former U.S. President Teddy Roosevelt and some of his rowdiest friends while Saturday another former UND standout James Patrick takes "One More Shift" for a fun-filled weekend on Feb. 23-24.
North Dakota closes out the regular season at home against Western Michigan on Mar. 1-2, as the Hawks look to try and claim their fourth NCHC crown in the last five seasons. It's all about the fans that weekend, as UND and the Ralph show our appreciation to the best fans in college hockey with Fan Appreciation Weekend. Saturday's contest will also feature the yearly Senior Night, with a special recognition at the conclusion of the game.
Limited tickets for select home games are still available and can be purchased at FightingHawks.com/tickets or at the Ralph Engelstad Arena box office. Jr. Champions Kids Club members also receive discounted youth tickets for $10 on the following dates: 10/13, 10/27, 10/28, 10/17, 10/18, 11/24, 11/25, 12/8, 12/9, 12/30, 1/5, 1/6, 1/12 by presenting their membership card at the box office.