No dream comes true until you wake up and go to work

Ralph Engelstad
"The harder I work, the luckier I get" was Ralph Engelstad's favorite saying and a secret to his success. His determination and dedication to quality work and goals followed him through life up until his death at the age of 72 on November 26, 2002. While Ralph is sadly missed by those whose lives he touched, his legacy lives on in the faces of the players, fans, and staff at Ralph Engelstad Arena.
Ralph became a member of the UND hockey team in 1948 and played goalie for two years before leaving for California to play for the San Bernardino Shamrocks and work construction. Realizing the importance of an education, he returned to UND and earned a bachelors degree in commerce. Shortly after his graduation in 1954, Ralph married Betty Stocker of East Grand Forks.
While still living in Grand Forks in the 1950s Ralph established Engelstad Construction. However, getting the $2,500 loan he needed to start the business was no easy task. Ralph was turned down by two banks before the late Al Holmquist, President of Valley Bank, finally made Ralph's decision to begin his own construction company a reality. Years later, in appreciation of Mr. Holmquist's support, Ralph gifted him with a new Cadillac.
In the 1960s, Ralph expanded his horizons, he began constructing housing in Las Vegas, Nevada, and became the owner of the Thunderbird Private Airport. He later sold this property to the legendary Howard Hughes and fulfilled his vision of building an entirely new hotel and casino. The Imperial Palace, one of the largest privately owned hotels in the world, opened in 1979. Ralph Engelstad, thought by Earl Strinden to be "The most outstanding and successful entrepreneur to graduate from UND in its entire history," continued to build his business empire with a second Imperial Palace hotel-casino in Biloxi, Mississippi and property ownership across the nation.
Ralph Engelstad's legends are endless. Ralph was known and appreciated by many of his friends for his direct, focused and no-nonsense approach to business. A key to his success was the reliability of his word and the integrity he insisted upon in others. Ralph's competitiveness and desire to win as a Fighting Sioux goalie transcended into his professional success long after his playing days at UND were over.
The late Ralph Engelstad and wife Betty are UND's most generous benefactors. The Ralph Engelstad Arena, one of the finest hockey facilities in the world, is an arena that encompasses Ralph's vision, loyalty, perseverance, determination, sense of appreciation and strength of character.
More about Ralph Engelstad: Ralph Engelstad - Forum Feature Articles - April 2023.pdf
---
Ralph Engelstad Arena in Grand Forks, North Dakota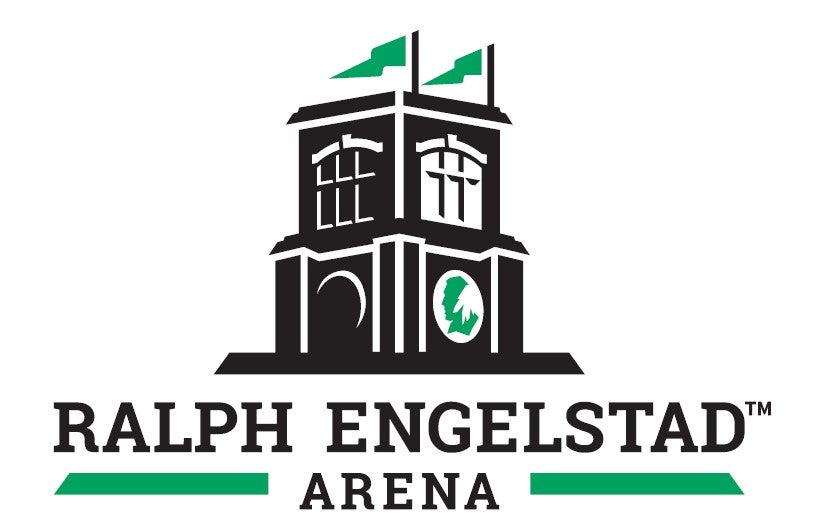 It's impossible to describe the $104+ million (over $250 million in value today) Ralph Engelstad Arena in just a few words, but it is described by many as the "finest facility of its kind in the world." The 400,000 square foot arena is nothing but first class. All concourse floors are granite, each seat is constructed of leather and cherry wood, and there are 48 full luxury suites, two mini-suites, two enormous club rooms featuring the longest freestanding bars in the state and the Sioux Shop retail store. The training facility features a newly renovated 12,500 sq. ft. weight room, multiple locker rooms, Olympic Arena, and the Betty Engelstad Sioux Center for the basketball and volleyball programs. What you have is more than a world-class facility; you have Ralph Engelstad Arena.
The biggest attraction though, and the reason the arena was built, is University of North Dakota Hockey. In its inaugural season (2001-02) in the new Ralph Engelstad Arena, hockey attendance erupted into an all-time high. All of the games in this 11,566 capacity hockey arena sold out in just 43 minutes after single-game tickets went on sale for the inaugural season.
Since opening its doors on October 5, 2001, the Ralph Engelstad Arena has played host to many big attractions, such as Kenny Chesney, Carrie Underwood, Kane Brown, Keith Urban, the Minnesota Wild, Elton John, Andre Agassi and Andy Roddick tennis, and many other entertainers and professional sports teams.
From December 25, 2004 – January 4, 2005, Ralph Engelstad Arena played host to the 2005 IIHF World Junior Hockey Championship. This tournament featured the best under-20 hockey players from around the world and put Grand Forks and Ralph Engelstad Arena at center stage in the hockey world for two weeks. It was the biggest event that this region had ever seen.
Ralph Engelstad Arena played host to the NCAA Division I Men's Hockey West Regional Championship March 24-25, 2006 where UND defeated Holy Cross to advance to the NCAA Frozen Four. In March 2021, REA hosted the NCHC Frozen Faceoff, where UND captured its first playoff championship.
The 2021-22 season marked Ralph Engelstad Arena's 20th Anniversary! The building has evolved but looks as beautiful as it did 20 years ago.
---
Ralph Engelstad Arena Quick Facts
Brick and precast exterior shell
Hockey seating capacity: 11,566
Basketball seating capacity: 12,119
Concert seating: 13,154
Luxury Suites: 50 (48 full, 2 mini)
Club Seats: 264
2,200 Logos
300+ TV's
4,000 tons of Steel
3.2 Miles of Brass Accents on the floor
1.1 Million Bricks
$110+ Million Dollar Facility with the Betty Engelstad Sioux Center (approx a $250 million value today)
---
Ralph Engelstad Arena in Thief River Falls, Minnesota
On February 4, 2002, a formal announcement was made by Architect Jim Kobetsky from Schoen Associates in Grand Forks, North Dakota, that Ralph and Betty Engelstad from Las Vegas, Nevada were donating $10 million towards the construction of a multi-purpose facility with a focus on hockey. The City Council accepted the Engelstad's gift at their February 12, 2002 Council meeting. As the scope of the project grew so did the need for additional funds. A local fundraising campaign began in September of 2002 and raised approximately $3 million through cash and in-kind donations to complete the project.
The arena was dedicated on November 29, 2003. In June of 2005, construction of the community room was completed and proudly bears the name Imperial Room. It will host receptions, trade shows, reunions, parties and other events. A basketball floor and arena decking were purchased in 2005 to enable the facility to host basketball games, wrestling matches, and other events. Following completion of the project, the Engelstad family donated over $13 million!
---