At Ralph Engelstad Arena we strive to provide the best customer service to all of our guests.
Please contact Brian Marti, Event Manager at 701.777.0367
Guests can buy 50/50 tickets from sellers on the main concourse outside section 116 and at kiosks throughout the upper and lower level concourses. Proceeds benefit UND athletics. 50/50 is sponsored by Nelson Auto.
Anyone purchasing or consuming alcohol products at the Ralph Engelstad Arena must be at least 21 years of age. REA requires anyone 35 years of age or younger to acquire a wristband before purchasing alcohol. Wristbands are located at all ID Checker stands throughout the arena. Alcohol sales at UND sporting events and non-UND events limit 2 alcoholic drinks per person.
Beer and alcohol/mixed drinks are now sold throughout the arena, including the Hugo's Lounge, Captain's Quarters and both club lounges, and can be taken anywhere inside the building - including the student section.
REA will not serve alcohol to anyone who appears intoxicated. REA reserves the right to refuse service to anyone. Alcohol sales and policies may vary for special events.
Non-alcoholic (N/A) beer is served at stands behind sections 103, 111, 303 and 311. You can also find N/A beer in the club lounges on the upper concourse.
There are four ATMs located on the main concourse, two located on the upper concourse, and one in the Betty Englestad Sioux Center. Please see the REA Map Directory for concourse locations.
Baby Changing stations are located in all public restrooms within the arena. In addition, family restrooms are available on the main level.
Bags, backpacks, purses & strollers
We encourage guests not to bring bags to events.
Ralph Engelstad Arena prohibits bags that are larger than 14" x 14" x 6" from entering the facility. Hard-sided bags of any kind are also prohibited. Backpack-style diaper or infant supply bags are permitted, but must be accompanied with a child and meet the 14" x 14" x 6" bag size policy. Medical bags and equipment are also permitted. This policy is designed to provide a safe environment for guests and to expedite entry into the facility.
All bags, purses, and items are subject to search when entering the facility or at any time while inside the facility by REA staff. Guests are not allowed to check strollers and other items at the gates and will be asked to either take prohibited items back to their vehicles or dispose of them at the gates. Ralph Engelstad Arena is not responsible for items that are left behind, lost, stolen, or damaged.
REA reserves the right to remove or deny entrance of any banner or sign into the facility that is deemed to contain racist, derogatory or offensive language or artwork. Confiscated banners or signage will not be stored or returned to the owner if confiscated by REA personnel.
For $50, you can wish someone a happy birthday, anniversary, etc., on the video screen during any UND men's hockey game. Arrangements must be made with the REA front office (701.777.4167) or karens@theralph.com and payment is due three business days in advance. Availability varies according to the game schedule.
Glass bottles are not allowed inside Ralph Engelstad Arena except on suite level. Cans may be taken off of suite level but glass must stay on suite level at all times. No outside food or beverage is allowed inside REA.
Non-flash, still cameras may be used to take pictures at REA events. Camera lenses greater than four inches in length are prohibited. Tripods and other photography equipment may not be used without a building issued Media Credential. The team / event producer reserves the right to deny camera use at any time before, during or after an event and to prohibit the use of any camera that is deemed to be unacceptable. Failure to comply with the Ralph Engelstad Arena Camera Policy may result in the camera being confiscated. If the lens is too big, event staff will ask the guest to return the lens to their vehicle. Video recorders and/or digital cameras with recording capabilities are prohibited at all times time during REA events. The Ralph Engelstad Arena reserves the right to examine and prohibit use of any camera that its personnel deems to be unacceptable. Tape recorders are not allowed at any time. Failure to comply with the Ralph Engelstad Arena Recording Policy may result in the tape / film being confiscated. *These camera policies are general and can be overridden based on a specific request from the team, attraction, artist or promoter.
The University of North Dakota Athletic Department and Ralph Engelstad Arena promote good sportsmanship by student athletes, coaches, and spectators. We request your cooperation by supporting the participants and officials in a positive manner. Profanity, racial, or sexist comments or other intimidating actions directed at officials, students athletes, coaches, or team representatives will not be tolerated and are grounds for removal from the site and, if needed, additional disciplinary actions.
Conceal & Carry (Firearms)
Conceal & Carry firearms, without prior permission, are NOT permitted inside the REA facilities. Active law enforcement & military personnel exceptions may be granted by contacting the REA management in advance of arrival for an event. Decisions on Conceal and Carry will only be made prior to the requestors arrival - NO EXCEPTIONs. All decisions regarding Conceal & Carry of firearms entering into the REA facilities are FINAL.
There are several concession stands in the building which offer a variety of choices from cheeseburgers to Chinese rice bowls to chicken strips. Other vendors in our building include Red Pepper, Little Caesar's Pizza and Far Out Nuts (Bavarian Almonds).
Outside food and beverage is not allowed in the arena at any time. REA does honor those with special dietary needs for medical conditions. Please click on the contact us link to make us aware of this in advance. Glass bottles are not allowed inside Ralph Engelstad Arena except on suite level. Cans/plastic cups may be taken off of suite level but glass must stay on suite level at all times.
Visa, MasterCard, Discover & American Express are accepted in the Sioux Shop, Box Office and certain non-portable concession stands.
Drones/Unmanned Aircraft Systems (UAS)
In accordance with Federal Aviation Administration (FAA) guidelines, the use of Unmanned Aircraft Systems (UAS) is prohibited on or above the Ralph Engelstad Arena (REA) property without the advance written approval of REA. REA management and staff shall refuse or ban all UAS flights and/or deny admission/entry to anyone attempting to use a UAS without advance written approval; and if necessary, REA management and staff shall issue cease-and-desist-orders and remove anyone attempting to use a UAS on or above the property. Anyone seeking to utilize a UAS on or above the REA property must submit a request and be granted advance written approval prior to commencing use of a UAS on or above the property. If an REA staff member confirms non-approved utilization of a UAS on or above the REA property, the UND Police Department is to be contacted immediately.
Requests for use of UAS equipment must be submitted and approved in advance through the office of: Jody Hodgson, REA General Manager. Email is jodyh@theralph.com. The Ralph Engelstad Arena reserves the right to restrict or deny any such requests. Request must be submitted seven (7) days in advance of the desired date of UAS utilization.
There are five elevators inside Ralph Engelstad Arena, located at each corner of the building and one in the Olympic Arena. There is also one elevator located on the northwest side of the Betty Engelstad Sioux Center. Two sets of escalators are also located in the main building, one at the north end and one at the south end of the arena.
Emergency Telecom Locations
Emergency assistance telecom speakers are located on the upper and suite levels of the Ralph Engelstad Arena in case of emergencies. They are located on Upper Level by sections 302, 306, 310, 314 and Suite Level across from Suites 206, 220, 230, 244. These are monitored by our security office during all events.
There are six different entrances into Ralph Engelstad Arena. The main entrance is on the east side of the building with four other entrances in each corner of the building and one entrance for the Olympic Arena. Entrances for UND men's hockey are the main entrance, southwest entrance (student) and northwest entrance. The Betty Engelstad Sioux Center has one entrance on the west side of the building plus an additional through the Olympic Arena on the northeast side of the BESC. Entry points may vary for non-UND events.
All patrons require a valid ticket, pass, or appropriate credentials to gain access into the facility. Patrons are required to pass through walk-through metal detectors and may be subject to a reasonable search and inspections on any bags, containers or packages being brought into the building. Reasonable search may include a body search in some circumstances. This is for the safety of all patrons. Patrons are given the right to refuse searches but will not be allowed into the facility. Once you are admitted into Ralph Engelstad Arena, there is no re-admittance if you choose to leave. (See smoking policy).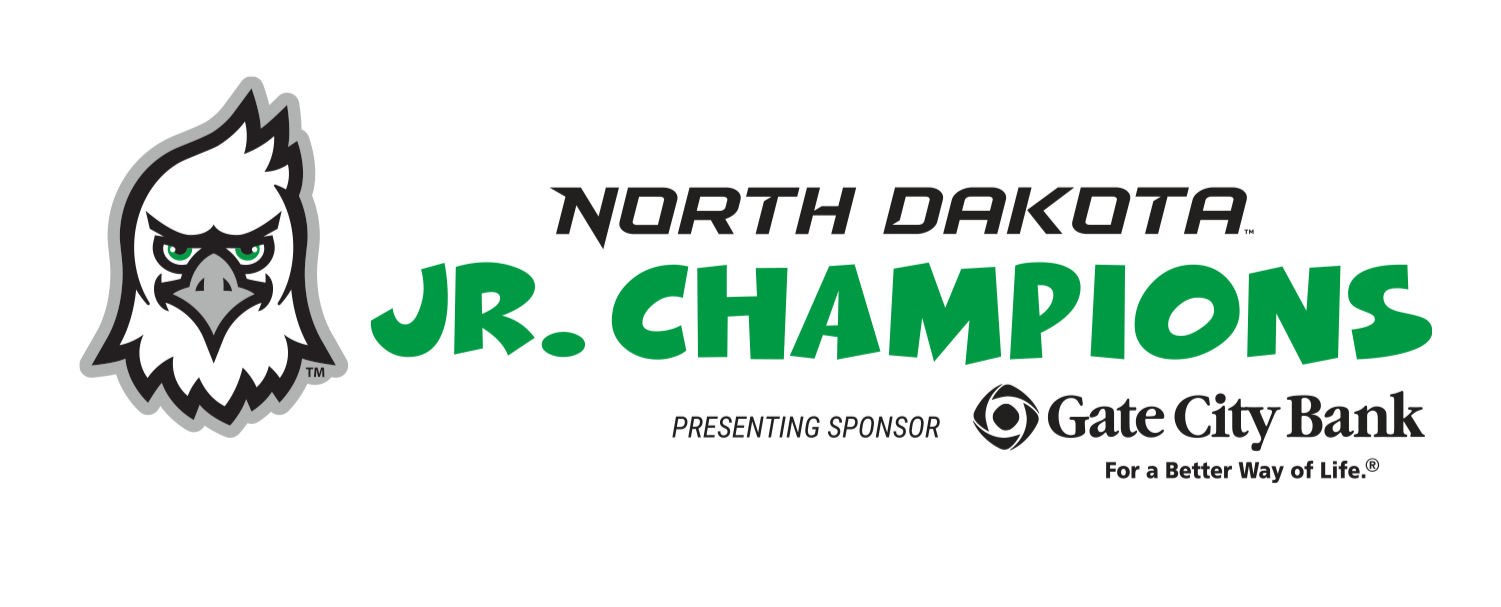 Jr. Champions is free for children in 8th grade and under, thanks to presenting sponsor, Gate City Bank of Grand Forks. Sign up at any Fighting Hawk Sporting event, at fightinghawks.com, or at any Gate City Bank location in Grand Forks. Included in your Jr. Champion membership is a t-shirt, membership card, and lanyard, free admission into men's basketball, women's basketball and volleyball (tickets are subject to availability), discounts to regular-season home football and hockey games, chance to be the Jr. Champion Captain of the Game, exclusive access to events with head coaches and student-athletes, a redeemable birthday card for a large one-topping pizza courtesy of Deek's Pizza, Fighting Hawk stickers courtesy of Probitas, and the official monthly e-newsletter.
*Reminder: All returning members must re-register for the new season of Jr. Champions*
The lactation suite, sponsored by Altru, is located on the main concourse behind section 107. The suite offers guests a private space to pump or breastfeed during UND men's hockey games. Please go to the loading dock area, located across from sections 106-107 on the main concourse, and visit the Lost & Found attendant for access into the lactation suite.
Any child ages 2 to 4 who choose to sit on their parent's lap is required to have a Lap Seat ticket in order to get into the event. Lap Seat tickets can be purchased starting one hour prior to the event at the box office window located in the main lobby. Please make sure that the child is with you upon purchase. There is not a flat fee for lap seat tickets as they are priced the same as youth tickets for the event. Policy may vary for non-UND events such as concerts or family shows. For additional information about lap seat tickets please call our box office at 701.777.4689.
During events, all lost and found items should be turned into the REA Lost & Found Department, which is located in the loading dock area across from sections 106-107 on the main concourse, or given to a REA event staff member. To inquire about lost items during events, please visit the REA Lost & Found Department. To inquire about lost items during non-event times, please call 701.777.4167 (option 3) during regular business hours or email lostandfound@theralph.com with a short description of the item, the date the item was lost, and your contact information. Due to the large number of items that are collected, all lost and found items are kept for 15 days from the date they are found. Items not claimed within 15 days will be donated to charity. Ralph Engelstad Arena is not responsible for lost or stolen items.
Lost Children/Missing Persons
Lost guests are to be taken to the Ralph Engelstad Arena Security Office in the southwest corner of the building, behind Section 107. Should someone you know become missing, contact the nearest REA staff member for assistance. Parents may also register their child for the Tag-A-Tot Program upon arrival at the building. Registration in the program will help us immediately locate parents in case of their child becoming missing.
Medical/First Aid Station
The Medical/First Aid Office is located in the southwest corner of the building behind section 107. Our current EMS provider is Altru Health System.
Medicine Vending Machines
There are two medicine vending machines located on the main concourse. One is located by the Olympic Arena entrance across from sections 108-109 and the other is located in the southeast stairwell across from section 102. The machines cost $1.00 to use (quarters ONLY) and are stocked with individual packets of Advil, Aleve, Tylenol, and antacid.
New walk-through metal detectors will be used at all entry doors at Ralph Engelstad Arena (REA) and Betty Engelstad Sioux Center (BESC) for the 2019-2020 season.
Fans will pass through the walk-through metal detectors on their way into the venue and then they will have their tickets scanned for entry into the event.
Tips for Expediting the Entry Process at Ralph Engelstad Arena and Betty Engelstad Sioux Center:
Arrive early
Leave all non-essential items at home or in your vehicle
Required to remove phones, keys, cameras, mace, pocket knives and large metal objects from pockets. See list of prhibited items before visiting.
NOT required to remove belts, jewelry, jackets, shoes, or caps
NOT required to remove coins, wallets, or any other small objects from pockets
For those with a mobility device or those unable to enter the walk-through metal detectors, an accessible entrance will be available where a hand-held metal detection wand will be used. Fans that do not submit to a reasonable search will be denied admission to the facility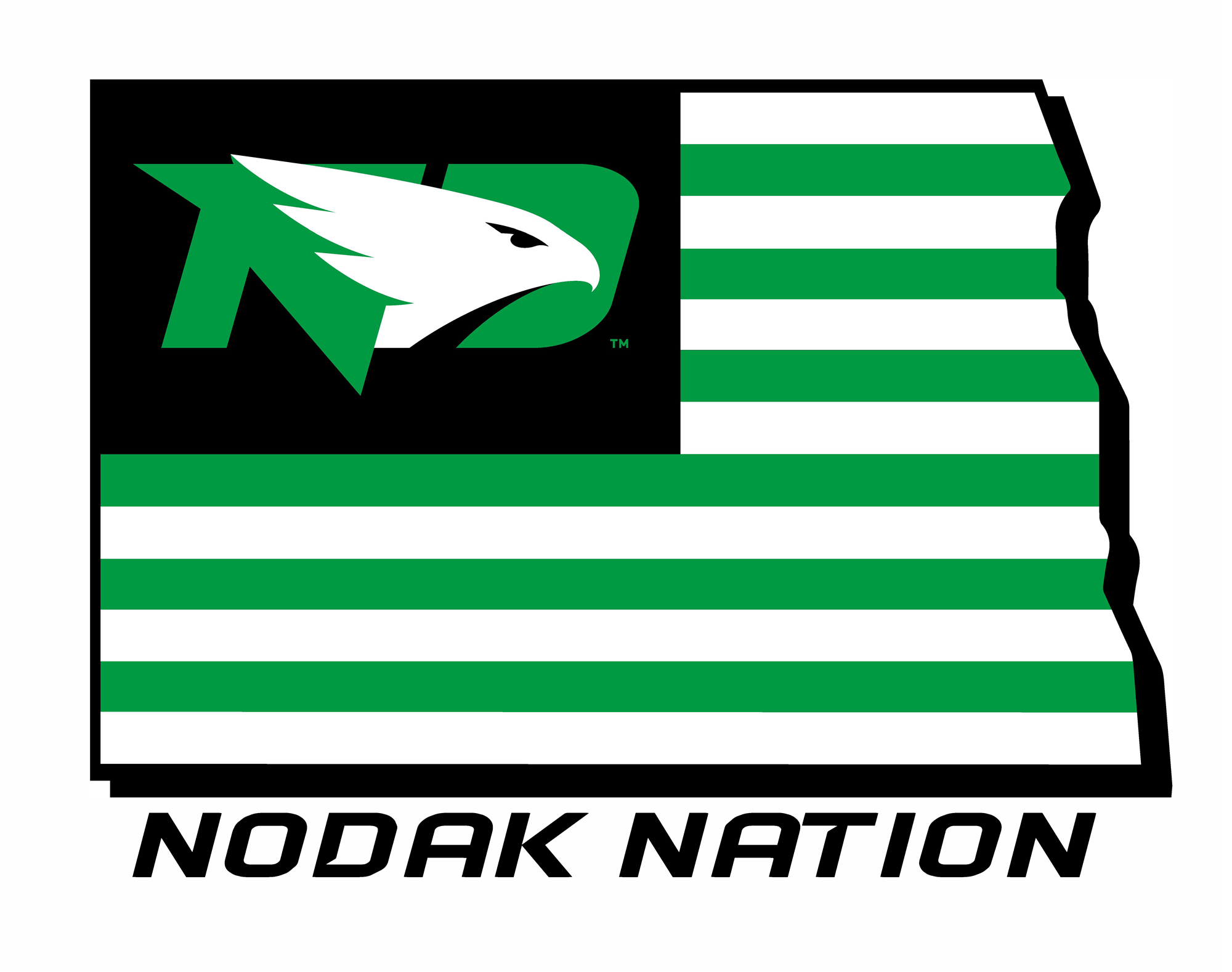 If you get chills down your spine watching the stick salute. If the hairs on the back of your neck stand up after a big hit on the field.If you think the roar of the crowd makes or breaks a game. If you believe green and white are the only colors that matter on a field of grass, sheet of ice or court of wood. Then you think like we do. Come to games, cheer teams on and intimidate opponents while receiving exclusive student giveaways and experiences! Sign up at fightinghawks.com
Parking, Shuttles & Ride Share
Located in the main lobby and near the northeast entrance and section 107-108 of REA and also the main lobby of BESC with a variety ports for different phone types.
Coolers, large bags, bottles, cans, thermoses, or projectiles of any kind.

Weapons, guns, knives (including pocket knives, sticks, self defense, etc. (any dangerous items)

Bicycles, roller blades, skateboards

Glass containers

Animals DEAD or ALIVE (except service animals)

Recording devices, video cameras, professional cameras (except for properly accredited media).

Air horns, whistles or noisemakers.

Non-prescribed drugs.

Alcohol.

Food and beverages of any kind. (Other than food purchased from REA licensed vendors).

Any unauthorized signs.

Selfie Sticks

Helium balloons
Ralph Engelstad Arena reserves the right to prohibit any item(s) that it deems unsafe or potentially dangerous. Ralph Engelstad Arena also reserves the right to change or alter venue policies without prior notification in the interest of public safety.
Luxury suites at Ralph Engelstad Arena provide the best in customer service and entertainment opportunities in the Midwest. With excellent sight lines, an exclusive VIP entrance, concierge staff and fully furnished lounge area, these finely appointed suites provide a wonderful way to watch an event. Visit the Luxury Suites page for more information.
ntertain your clients, employees, or friends in the Ralph Engelstad Arena Green Room. The Green Room is available to rent prior to every UND men's home hockey game. Visit our Green Room page for more information.
Please visit /events/seats for more information and to nominate someone for Seats For Soldiers tickets.
Ralph Engelstad Arena is committed to the health and safety of our guests and employees and is a non-smoking/vaping facility. Guests are not permitted to smoke/vape inside Ralph Engelstad Arena nor are guests allowed to smoke within 25 feet of any door on the exterior of the building. Guests are not allowed to exit and re-enter for the purpose of smoking. The policies outlined above apply to electronic cigarettes, smokeless cigarettes, and/or vapor cigarettes, as well as traditional cigarettes. Violators may be subject to removal from the facility and/or denied admittance into the facility.
During UND men's hockey games, visit the Guest Services Desk located across from section 101 on the main concourse to register your child in the Tag-a-Tot program. Each child will receive a custom ID wristband with their name, their seat location, and the phone number of a parent so a REA event staff member can easily help the child locate their seat if they become lost or separated from their family.
Tailgating is not allowed anywhere on the grounds of Ralph Engelstad Arena (unless specified otherwise by management).
Tours of Ralph Engelstad Arena are given at 1:30 PM Monday – Friday. Tour goers meet in the Sioux Shop for the start of the tour. To schedule a tour, contact the Sioux Shop at 701.777.6636. The cost is $7 Adults, $5 for Seniors/Students/Military Members, children under 12 are free. No tours are given on event days.
Water Bottle Filling Stations
Free water bottle filling stations are now available on the main and upper concourses in sections 106 and 306. Ticket holders may bring empty water bottles into the arena on game nights to fill. Cups are available at concessions stands to fill as well.
Wheelchairs are provided for free to guests on a first-come, first-served basis during events. To use a wheelchair, guests should visit the Guest Services Desk located across from section 101 on the main concourse or ask a REA event staff member for assistance. In order to check out a wheelchair, guests must leave a valid photo ID at the Guest Services Desk. Upon the return of the wheelchair at the end of the event, the photo ID will be returned to the guest.
The complementary WiFi network "REA Guest" is available at entrance points and throughout the arena.
Note regarding digital tickets: it's always best the load them into your phone's wallet ahead of time. However, the REA Guest WiFi is available at entrance points.
Want to ride the Zamboni? Contact:
Ask for Karen at 701-777-6635
Riders must be 8 years or older. One rider per Zamboni (no kids on laps). One parent/guardian may accompany the rider to the zamboni area.