Concessions
Have a bit of a sweet tooth? Or maybe you're craving something a little heartier? With a wide variety of food and beverage options, you'll be able to satisfy any craving at one of the concession stands or specialty carts located throughout the arena.
Closed Concessions for March 11-12
Red Pepper (Upper level)
All American (Upper level)
Dog House (Upper level)
Beer Stands (Next to Slap Shot/Upper and Little Caesars/Upper)
Imperial (Lower level)
Dippin' Dots across from Slap Shot (Lower level)
Main Concourse Conessions Map.pdf
Upper Concourse Concessions Map.pdf
Student Concessions Discount – UND students will be allowed to purchase a discounted menu of select concession items this season at the BESC South Betty Stand (near student section) and Go (basketball) and REA Wishbone and Dog House concession stands (hockey). UND students will simply show their valid UND student ID card to receive the discount.
BESC Student Discount Menu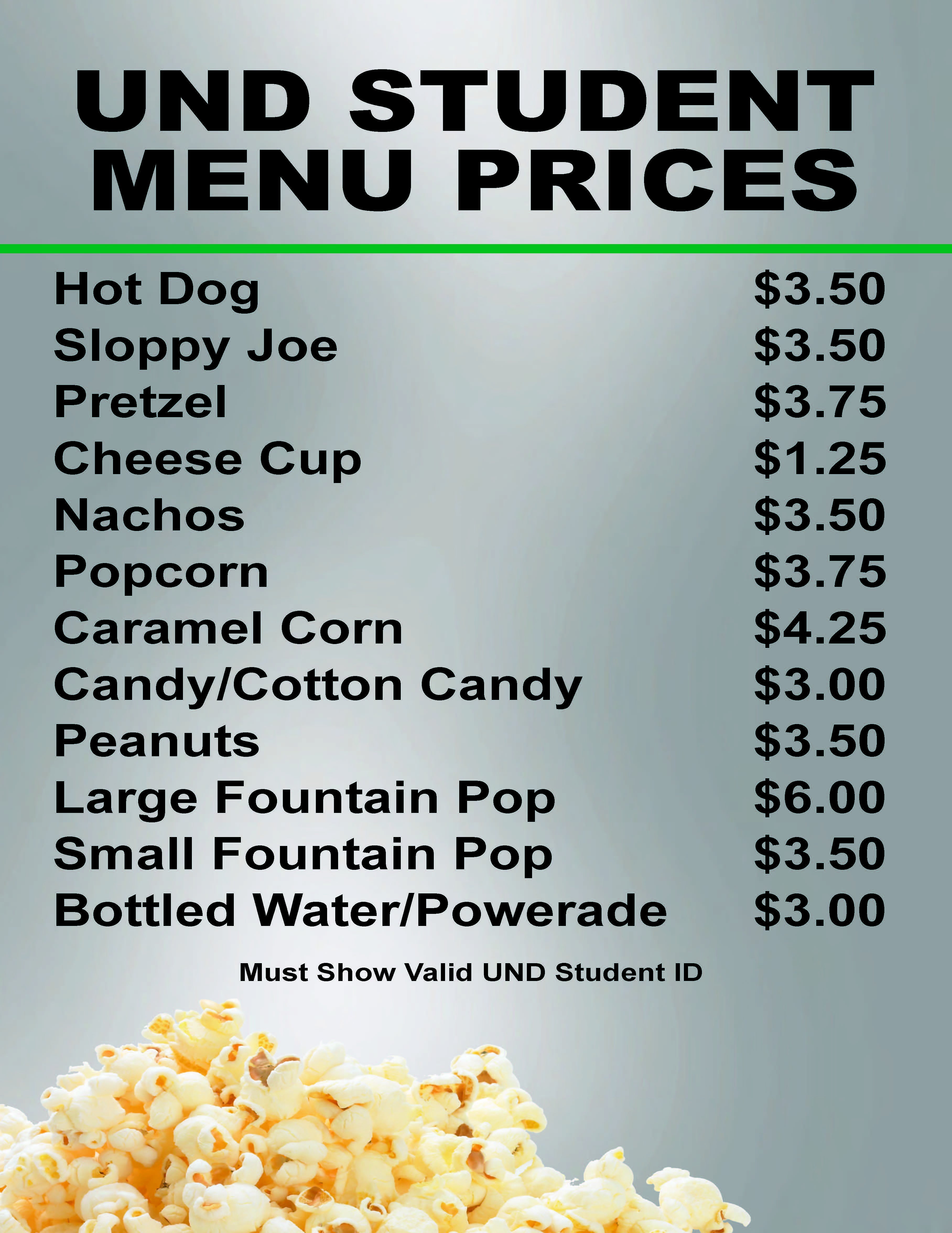 REA Dog House Student Discount Menu (section 309)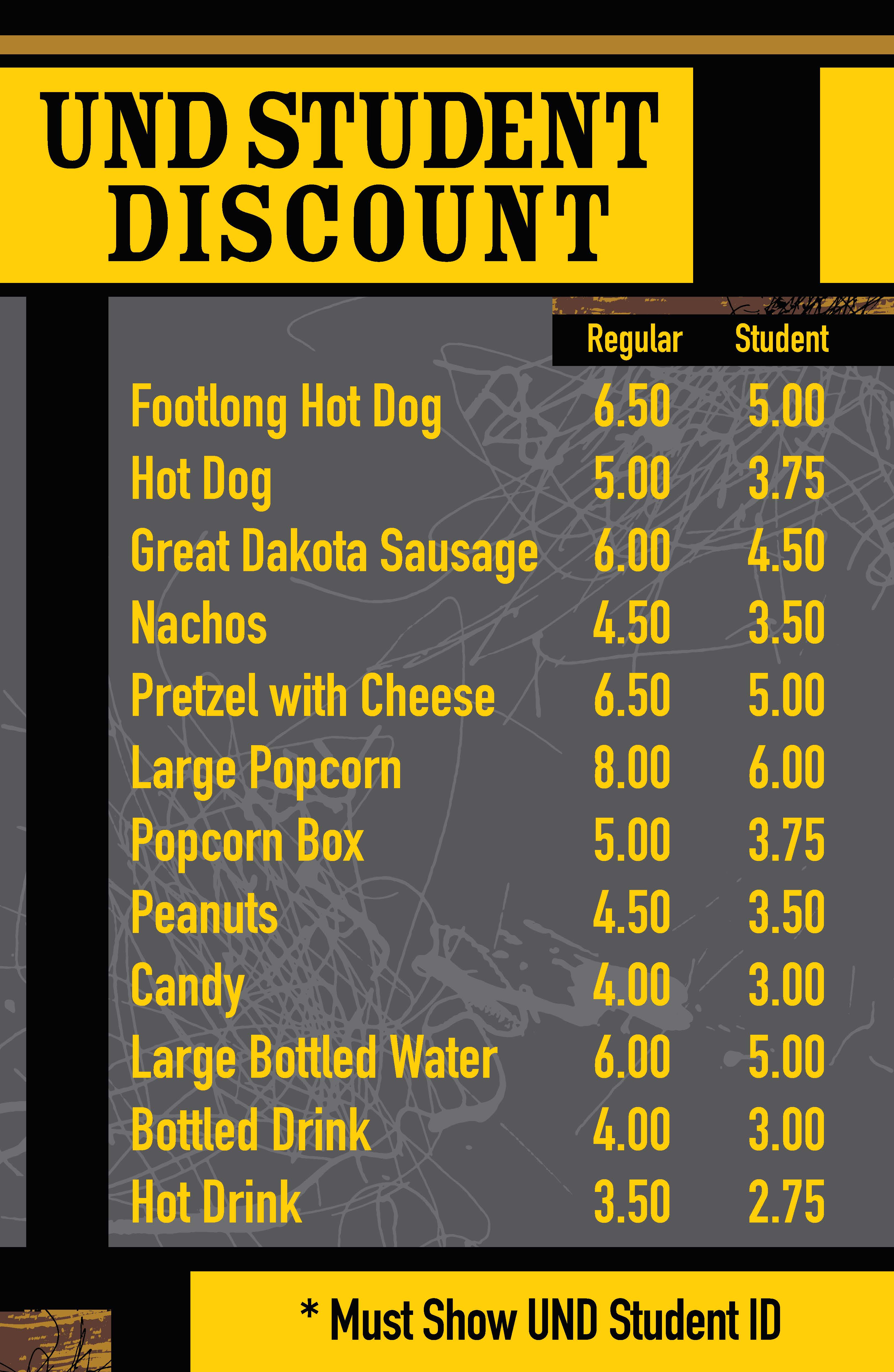 REA Wishbone Student Discount Menu (section 106)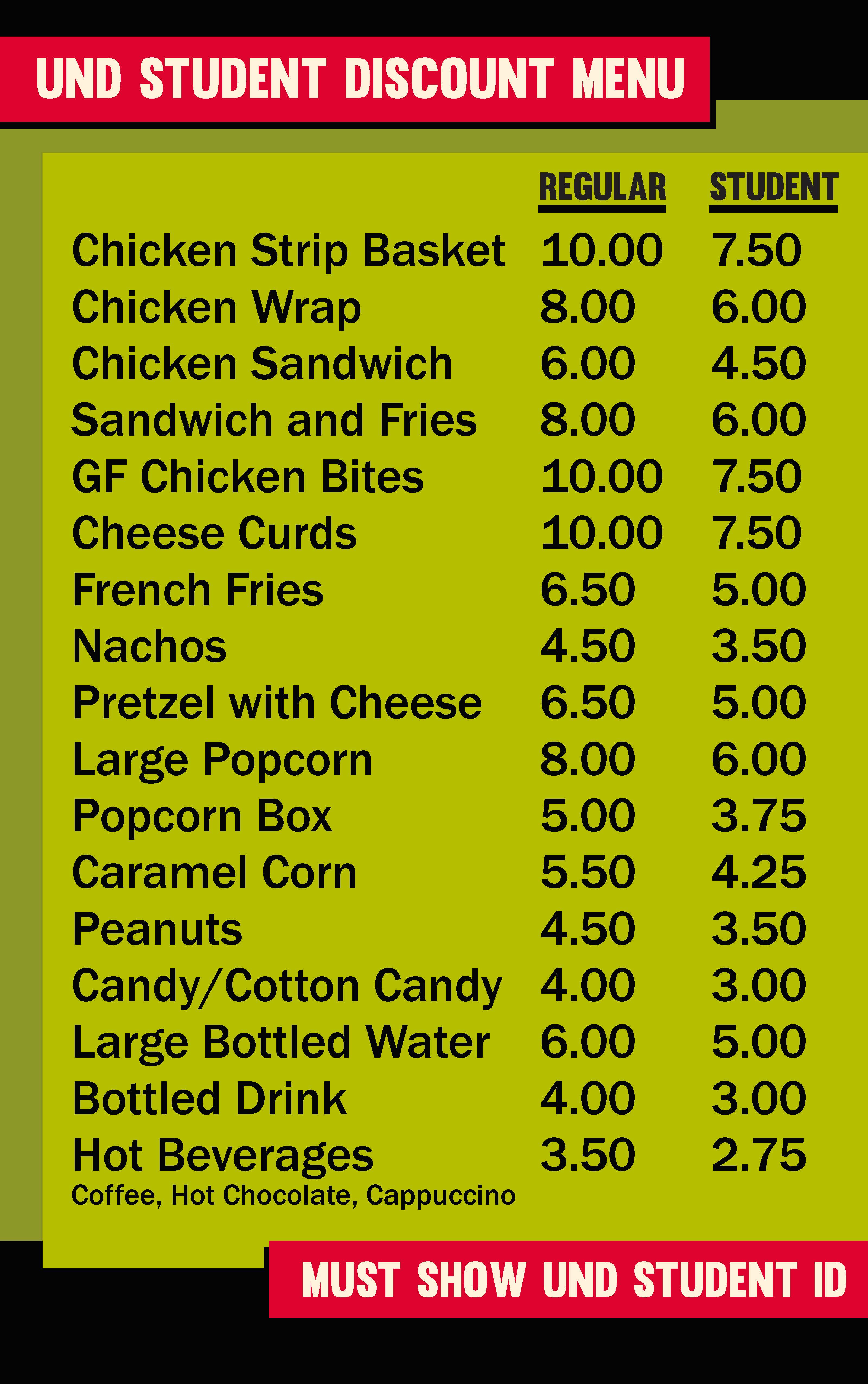 Main Concourse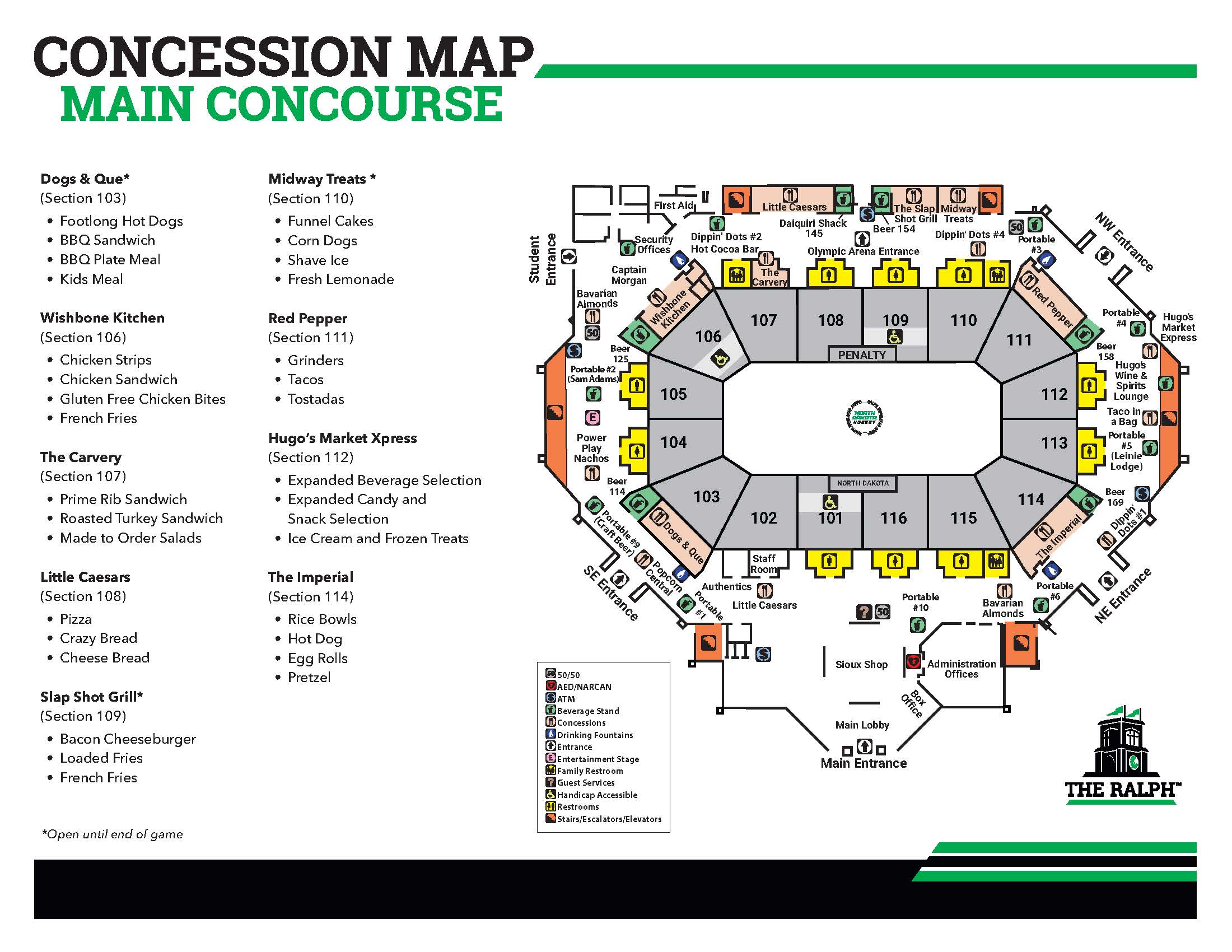 Dogs & Que (103)

Featured Items:

Footlong hot dogs
BBQ Sandwich
BBQ Plate Meal
Mac N Cheese
Kids Meal

Wishbone Kitchen (106)

Featured Items:

Chicken Strips
Chicken Sandwich
Gluten Free Chicken Bites
French Fries

Captain's Quarters (106)

Sail over to the Captain's Quarters featuring a variety of Captain Morgan inspired beverages.

Featured Items:

Mixed Drinks
Beer & Wite Claw

New for this season - mixed drinks (along with beer and wine) may be consumed throughout arena.

The Carvery (107)

Featured Items:

Prime Rib Sandwich
Roasted Turkey Sandwich
Made to Order Salads

Little Caesars (108)

Featured Items:

Pizza
Crazy Bread
Cheese Bread
Cinna Sticks

Slap Shot Grill (109)

Featured Items:

Bacon Cheeseburger
Loaded French Fries
French Fries

Midway Treats (110)

Featured Items:

Real Good Cookies
Funnel Cakes
Corn Dogs
Shaved Ice
Fresh Lemonade

Red Pepper (111)

Featured Items:

Grinders
Soft Shell Tacos
Tostadas

Speedy Silos (111)

Don't wait in line for beer tonight. Located by the NW entrance (section 111) on main concourse, Speedy Silos offers ice cold 24oz cans of your favorite beers. 1 for $10 or 2 for $20 - cash only. Super fast and super cold.

Hugo's Market Xpress (112)

Featured Items:

Expanded Beverage Selection
Expanded Candy and Snack Selection
Ice Cream and Frozen Treats

Hugo's Wine & Spirits Lounge (112)

Featured Items:

New for this season - mixed drinks (along with beer and wine) may be consumed throughout arena.

The Imperial (114)

Featured Items:

Rice Bowls
Egg Rolls
Hot Dog
Bavarian Pretzel
Upper Concourse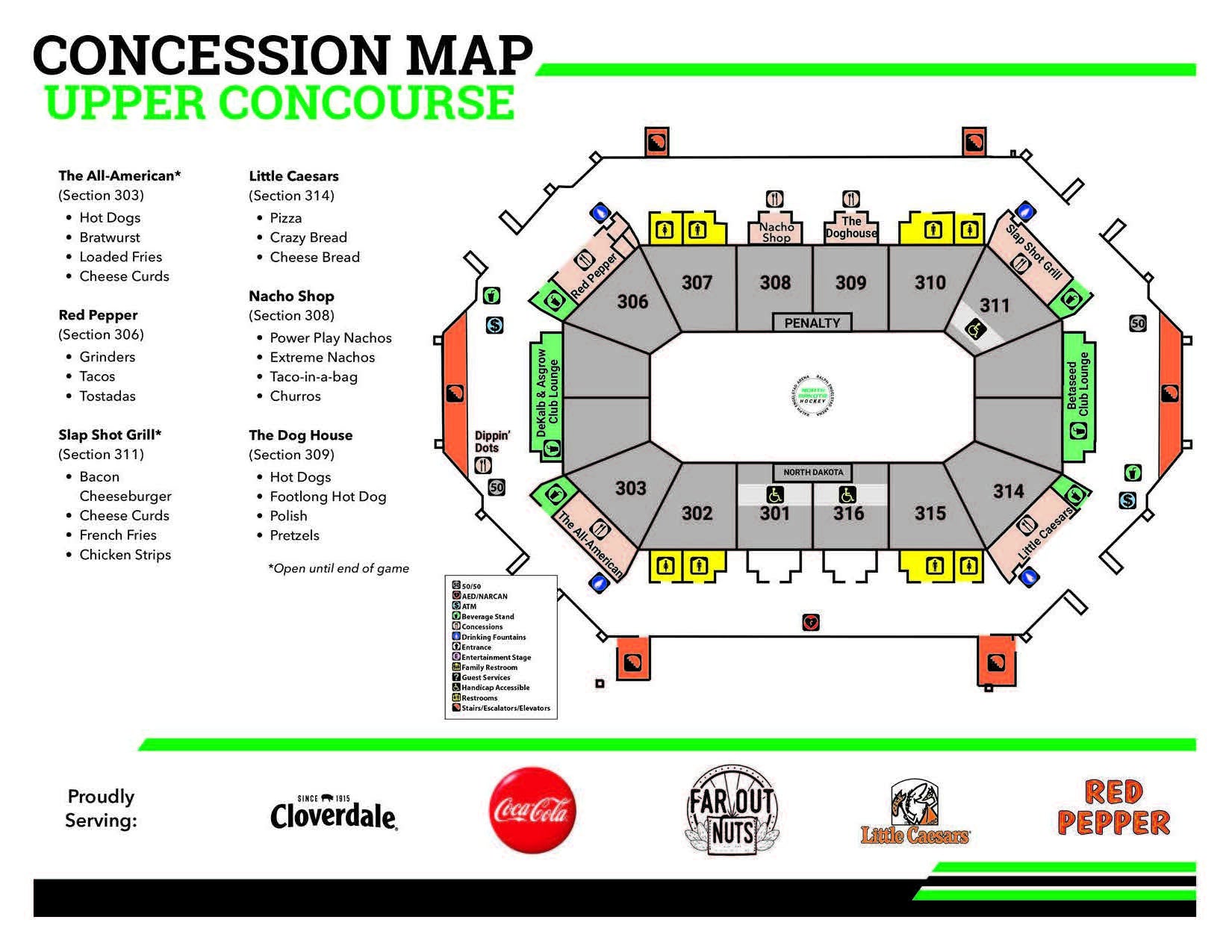 The All-American (303)

Featured Items:

Hot Dogs
Bratwurst
Corndogs
Cheese Curds

Red Pepper (306)

Featured Items:

Grinders
Soft Shell Tacos
Tostadas

Nacho Shop (308)

Featured Items:

Power Play Nachos
Extreme Nachos
Taco-in-a-bag
Churros

The Dog House (309)

Featured Items:

Hot Dogs
Footlong Hot Dog
Polish Sausage
Bavarian Pretzel

Slap Shot Grill (311)

Featured Items:

Bacon Cheeseburger
Cheese Curds
French Fries
Chicken Strips

Little Casesars (314)

Featured Items:

Pizza
Crazy Bread
Cheese Bread
Cinna Sticks