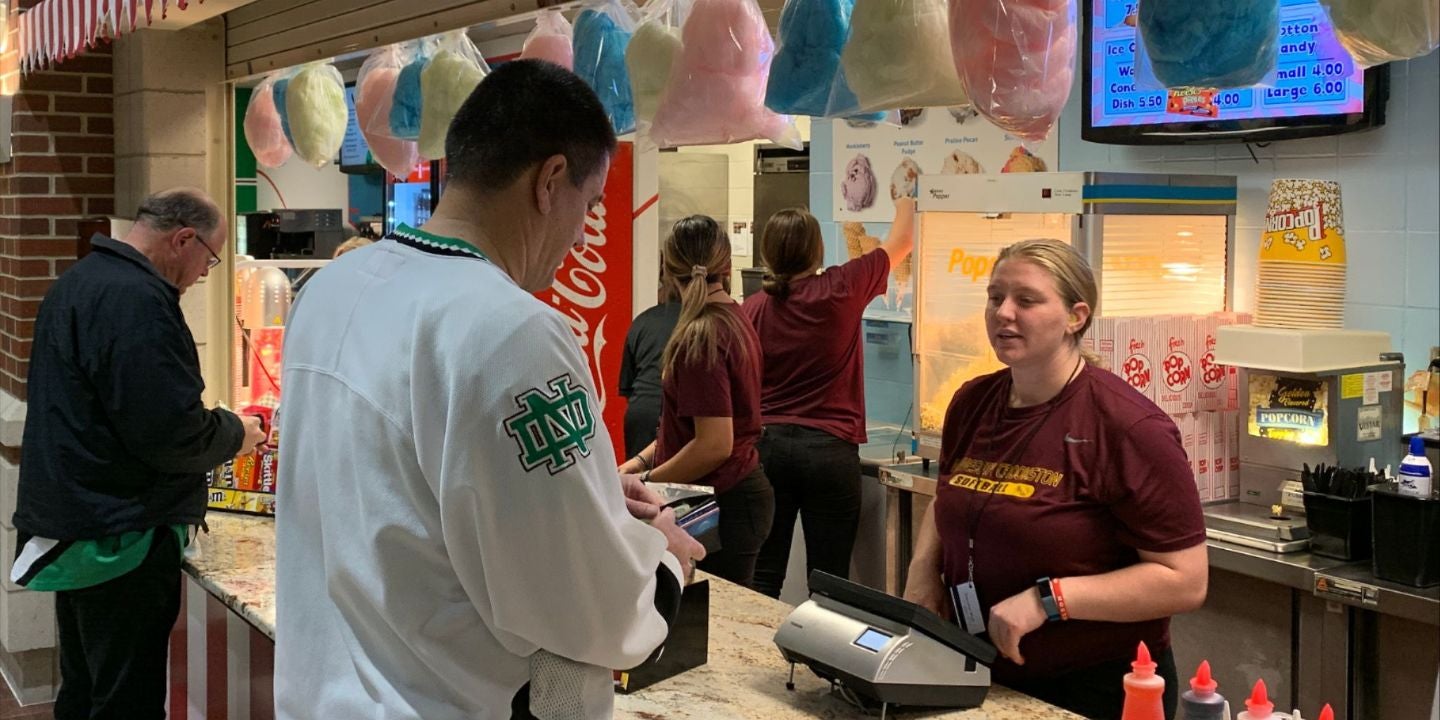 NON-PROFIT ORGANIZATIONS RAISE OVER $100,000 THIS SEASON AT THE RALPH
Apr.

3

, 2023
NON-PROFIT ORGANIZATIONS RAISE OVER $100,000 THIS SEASON AT THE RALPH
GRAND FORKS, ND, APRIL 3, 2023: Local and regional non-profit organizations raised $100,290 working concession and custodial shifts at Ralph Engelstad Arena (REA) and Betty Engelstad Sioux Center (BESC) during the 2022-2023 University of North Dakota athletics season.
Non-profit organizations can sign up to work concessions and/or custodial shifts during the UND hockey, basketball, and volleyball seasons at the Ralph and the Betty by contacting venue human resources staff.
"We're very happy to provide groups with a fantastic way to earn money for their respective organizations," said REA Recruiting Coordinator Erika Thorson. "It's a win-win for them and the Ralph. The groups are very appreciative of earning money for working events, plus they have a lot of fun being here and we're very happy to have them help us take care of our fans on gamedays."
Here are stats for the recently completed 2022-2023 season:
76 different groups worked shifts with a total of 2,729 volunteers involved with those 76 groups.
34 groups consisting of 1,125 total volunteers worked concessions shifts.
42 groups consisting of 1,604 total volunteers worked custodial shifts.
The non-profit organization that raised the most money for their group last season earned $12,375 by volunteering for their group at the Ralph.
Non-profit organizations interested in working concessions and/or custodial shifts for the upcoming 2023-2024 season can email erikat@theralph.com or visit theralph.com/workattheralph/non-profits.
In addition to the non-profit fundraising opportunities available at the venue, the Ralph had 779 total full-time and part-time employees during the 2022-2023 season making the Ralph one of the largest employers in both the city and county of Grand Forks, as well as one of the largest employers in the state of North Dakota in terms of the total number of employees utilized in a year.